My Team
When you became my client, you placed your trust in me to help make your vision a reality. I honor that trust with the help of my expert support staff. Together, we make a strong commitment to client-focused service.
If at any time you have a question, concern or need, please let us know.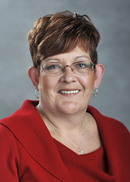 Shelli McCarville
Associate Financial Representative
Office 518-690-7953

Michelle ("Shelli") McCarville, Associate Financial Representative, is our "go-to person".  We know that our clients lead busy lives, and we strive to be responsive with information and assistance as quickly as possible.  Please feel free to rely on Shelli, as the majority of Tim's time is spent meeting with clients, and we don't want you to wait for the answers/support you need.
Shelli is a NYS-Licensed Life, Accident and Health Insurance Agent.  She has been with our Tronco Financial Network Office since 2013, and joined our team in April 2018.
Shelli, her husband Brian, and their daughter Jennifer reside in Colonie, NY.  When she is not working in the career she loves, Shelli's free time is usually spent attending and/or volunteering at the many plays, concerts, and musical events that Jennifer is involved in.  She has also discovered recently that there is a form of exercise perfect for her - modified kickboxing!
Fun Fact:  In her past career, Shelli was elected President of the Dean's Assistants Group of US Medical Schools.